These different options for your Miller Curber Commercial Curbilder are available.
Your Choice of Hopper:
Included in the purchase of your machine you get to select one of the 2 hopper configurations. The machines are built so they can extrude a curb on either the LEFT or RIGHT side of the machine.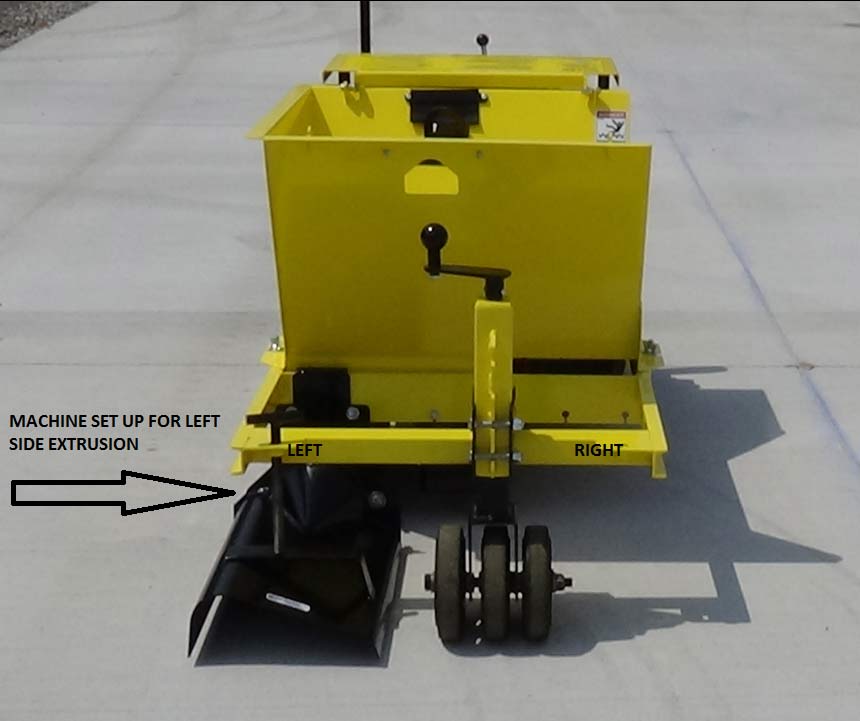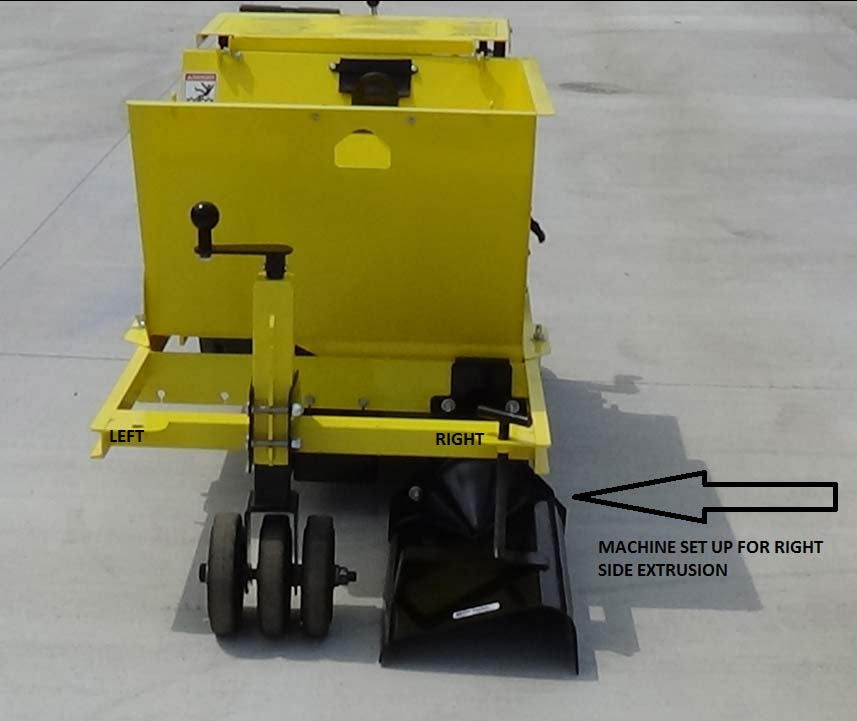 If you would like to extrude on either side, then you would need the reversible hopper.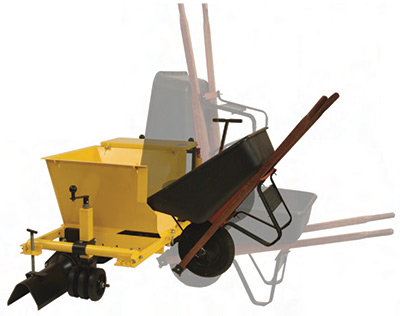 If you only plan to Extrude on the LEFT hand side (Right and Left is determined by watching the machine work away from you). You could select the wheelbarrow hopper. This hopper can hold more material and has a larger cut out so you can easily dump a load of material into the hopper with a wheelbarrow.
Either option is included in the purchase of your machine, we just need to know which one you would like. (See the difference)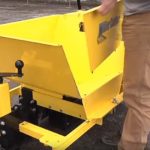 With either hopper choice you could have an optional removable hopper side plate. This plate pins into one side of the hopper and when it is in all 4 sides of the hopper are the same size. Some customers like this when they load from a cement truck because it reduces the amount of mix that can get spilled from the hopper. This option is $163.00 (Wheelbarrow hopper 45015-12/reversible hopper 45013-22) *Video of these options can be seen here.
Lifting Lug
This is a single point that you can lift the machine from. If you would like this option, it's $114.00. (part number 45035-01) *Video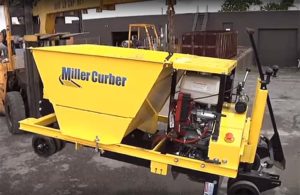 Hollow Auger
This will allow you to pass rebar from the machine into your curb. If you would like a hollow augers instead of the standard solid auger, add $312.00. *Video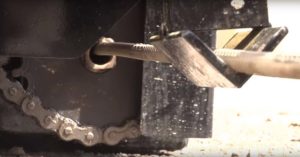 Pneumatic Tires: if you would like pneumatic tires in lieu of solid tires add: $369.00. (model number change from solid tires to pneumatic)
Cast Compaction Tube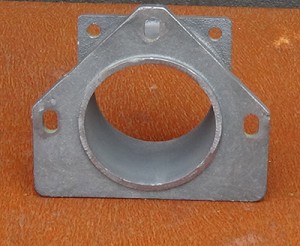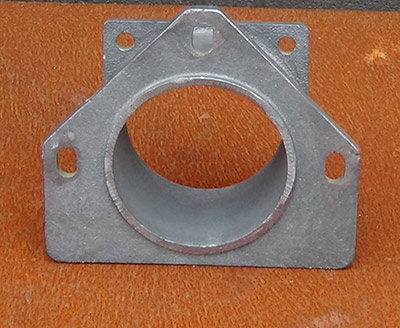 This compaction tube is made from the same material as the augers. So it's a white iron compaction tube. This compaction tube will last 15 times as long as a steel compaction tube that comes with the machine. If you would like the cast compaction tube add $422.00. (part number-45014-06)
Rear Swivel Wheel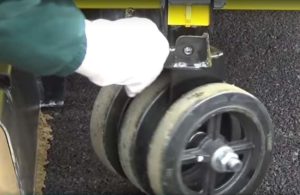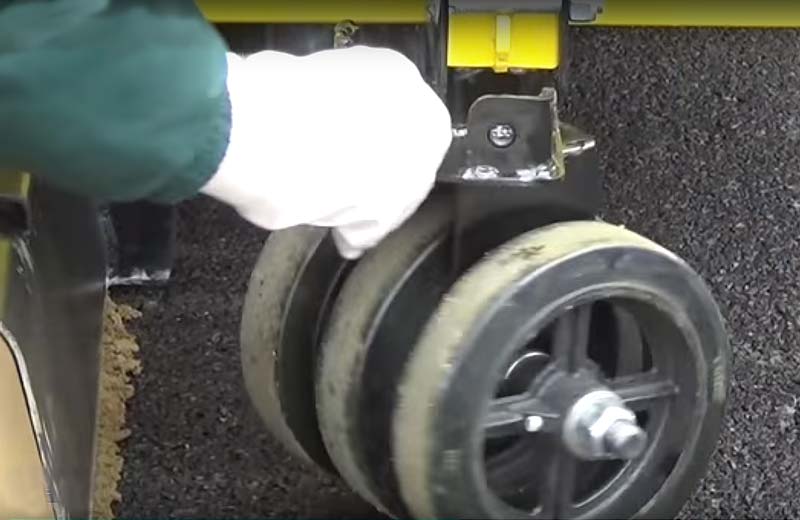 This option is designed so that if you are curbing back to a solid object, like a building, that you can get the machine as close to the building as you can before you get the machine off the curb. In the past guys would lift the machine off the curb. This option allows you to raise the machine up, rotate the wheels and push the machine off the curb. If you would like this option add $704.00 (part number 45039-09). **Video of this option can be seen here.
Vibration Kit
This can be added to any machine to assist in getting concrete into the augers to keep the augers full, please consult us to make sure this option will work in your application and machine.
If you would like this add: $4374.00 (part number 10008) ***Video of this option can be seen here.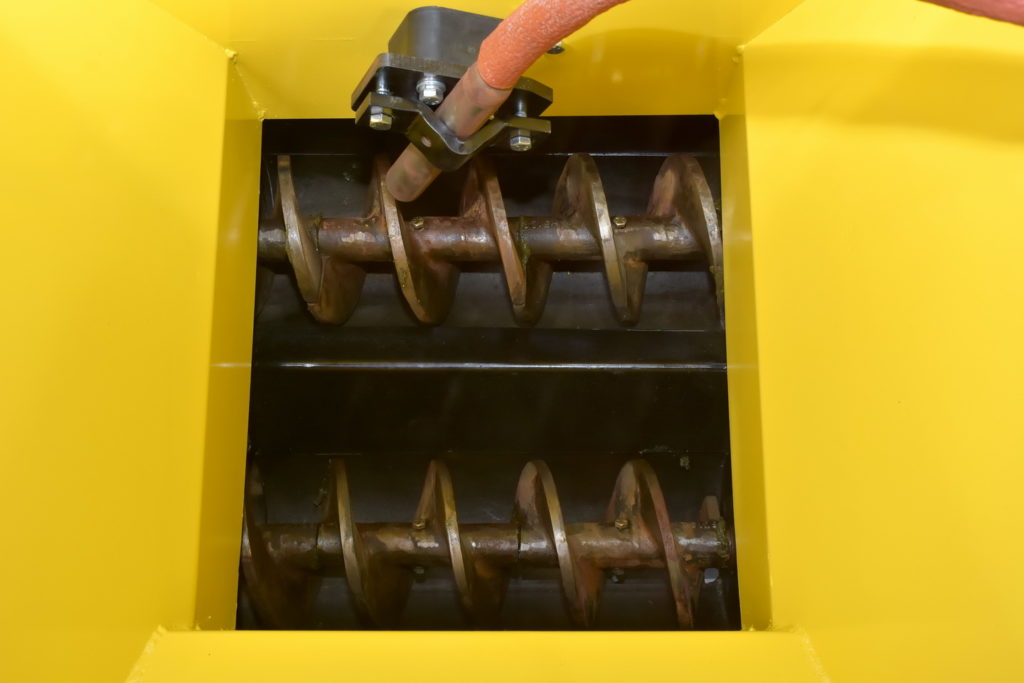 Curb Forms
Curb forms need to match the size of the augers on your machine. 5″ curb forms and 6″ curb forms are $635.00. 8″ curb forms are $755.00 and 10″ curb forms are $1497.00. We have over 2100 different forms available.
20 HP Honda Engine in lieu of a 13 HP Honda Engine: available only on the 650, add $2100.00.
Hydraulic Breaking System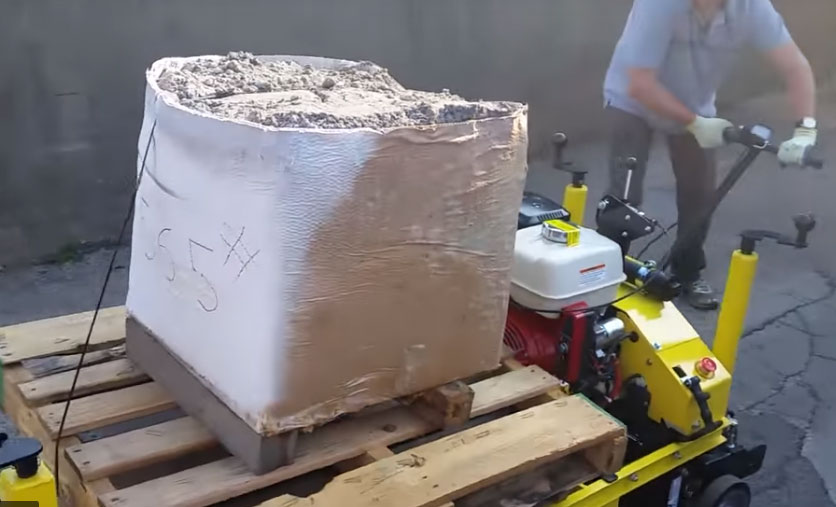 The hydraulic braking system is activated with a motorcycle type hand lever. It also features a locking mechanism that serves as a parking brake. When the lever is activated, hydraulic fluid flows to two calipers each located on the front forks. Brake pads in the calipers apply friction to each 3/16" thick x 7" diameter disks which are directly attached to the axles thus braking all four front wheels. The primary use of the brake is to prevent the curb extruder from rolling when extruding down hill. Currently available with machines with solid wheels. Add $2422.00 (part number 45159-01) Hydraulic Brake-field retro fit kit (for an existing machine): $3192.00 (part number 45159-35). View Hydraulic-Brake PDF ****Video of this option can be seen here.
---
Options Videos
*these options can be seen here: https://www.youtube.com/watch?v=z4_7-6jMlEA
**this option can be seen here: https://www.youtube.com/watch?v=_QXJjN1xsj8
***this option can be seen here: https://www.youtube.com/watch?v=B_Pa5AcpIXo
****this option can be seen here: https://www.youtube.com/watch?v=jxDAxIHXCog