7 Different Commercial Curb Machine Models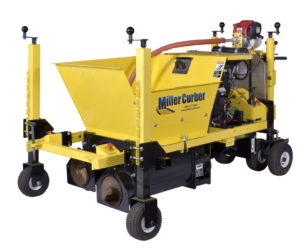 For over fifty years the Miller MC Series Curbers have offered unequaled performance and versatility for the placement of freestanding curb.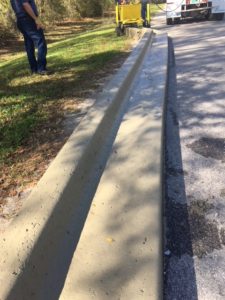 These simple and efficient self-propelled machines operate on the extrusion principle and provide the most economical means available of constructing small to mid-sized continuous curb from either concrete or asphalt.
This quick and efficient process drastically reduces the high labor costs associated with hand formed and poured curb and produces high quality, extremely dense curb at a rate of up to 15 fpm (up to 30 fpm for MC900). Miller's exclusive interchangeable extrusion auger assemblies give each Curber the capacity to extrude more shapes and sizes than any machine in its class, from 3-1/2″ to 18″ high curb.
A wide variety of options allow these machines to meet the toughest specification work.
---
MC 550/650
The MC 550/650 Curb Machines are the bread and butter of all the models we make. They are very versatile curb machines that are designed to handle everything from extruding curb in a parking lot, trench curb, barn curb or curbing along a city street, county road or highway. The only difference between the 2 models is the 550 has a 13 HP Honda recoil start engine and the 650 has a 13 HP Honda electric start engine.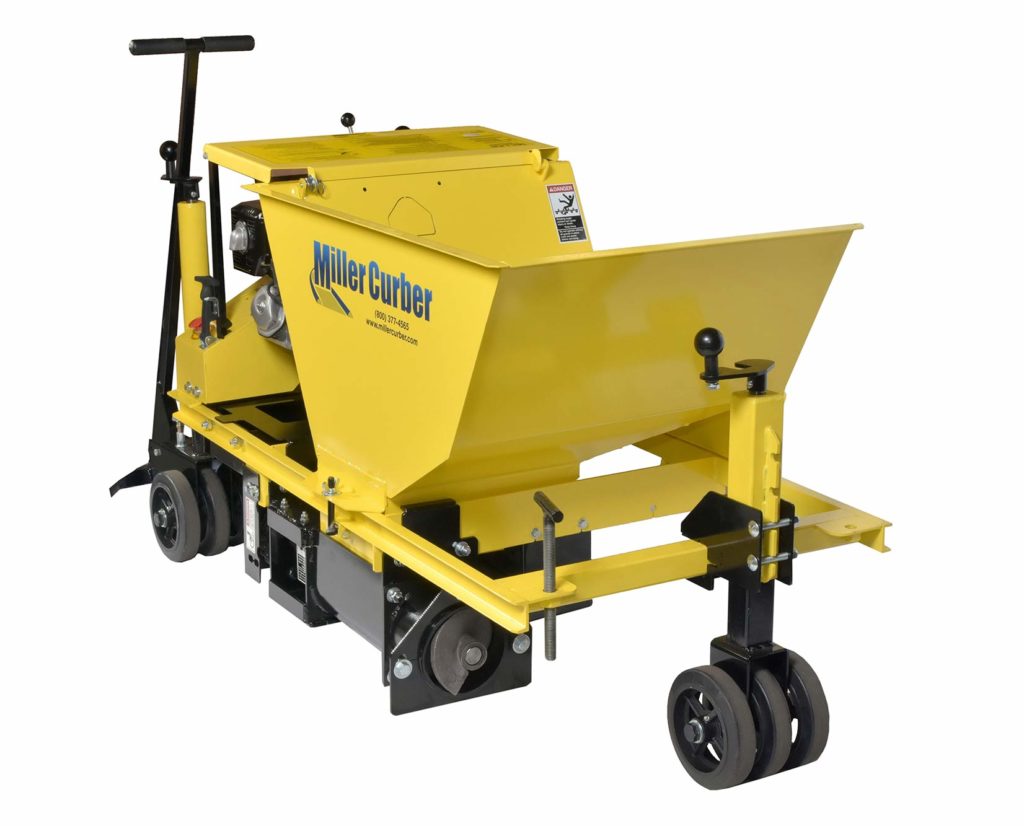 ---
MC 655
This machine has an auger housing that is offset by 12″ to allow the MC 655 Curb Machine to extrude curb under an existing guardrail.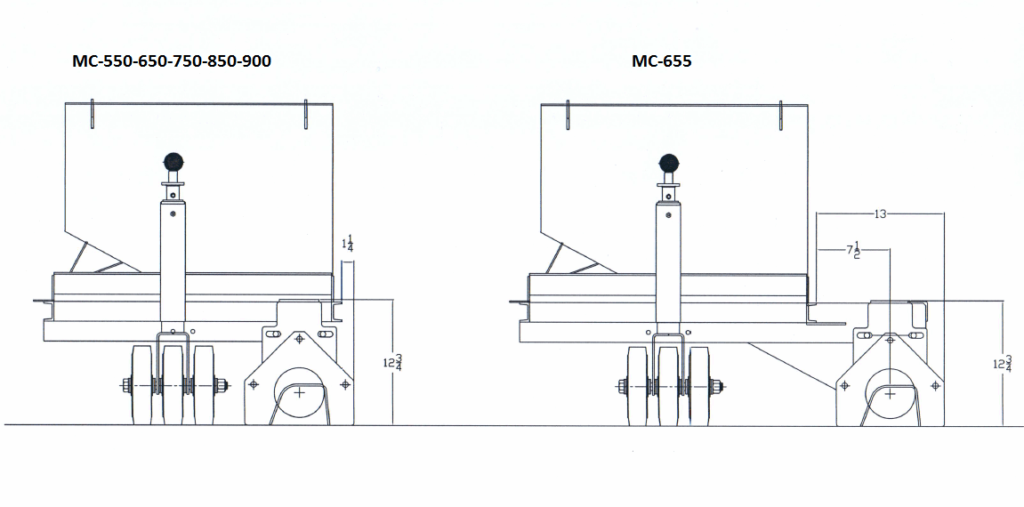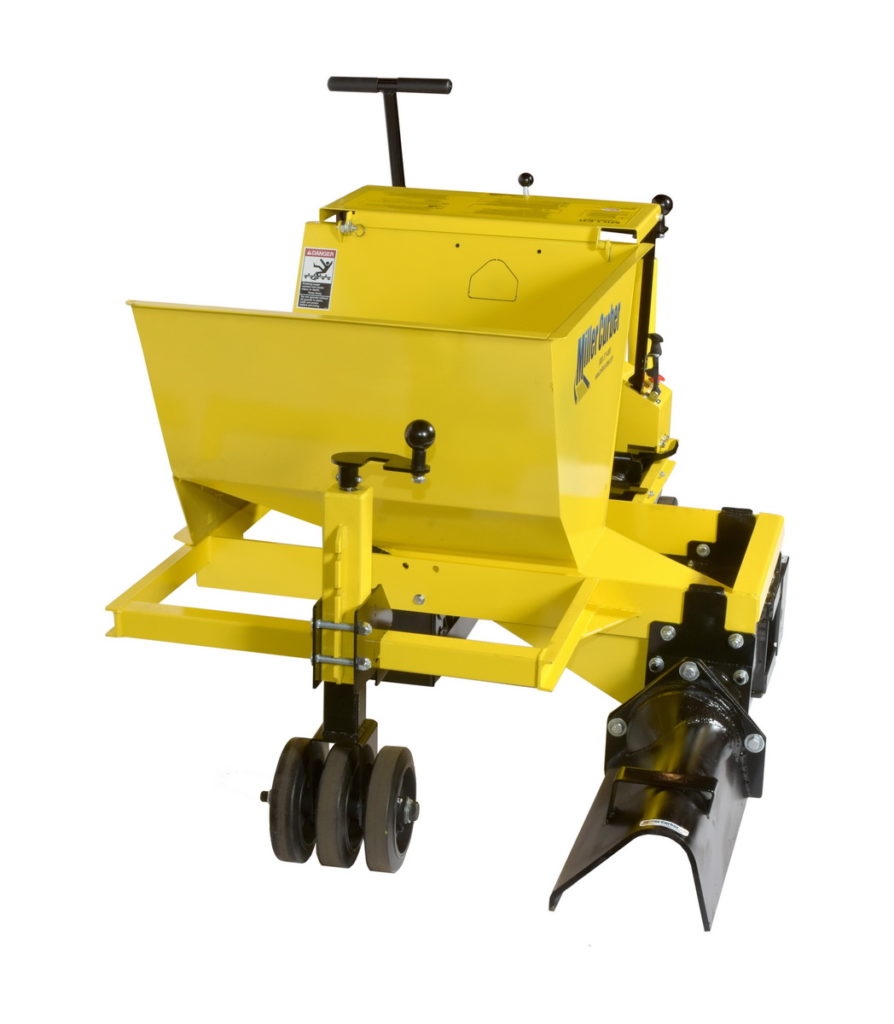 ---
MC 750
The MC 750 Curb Machine has an auger housing on both the right and left side and is designed for the customer who wants to be able to switch from a left hand extrusion to right hand extrusion quickly while at the job-site. Keep in mind for this curb machine you will need 2 curb forms (one for the right and one for the left) if the curb is asymmetrical.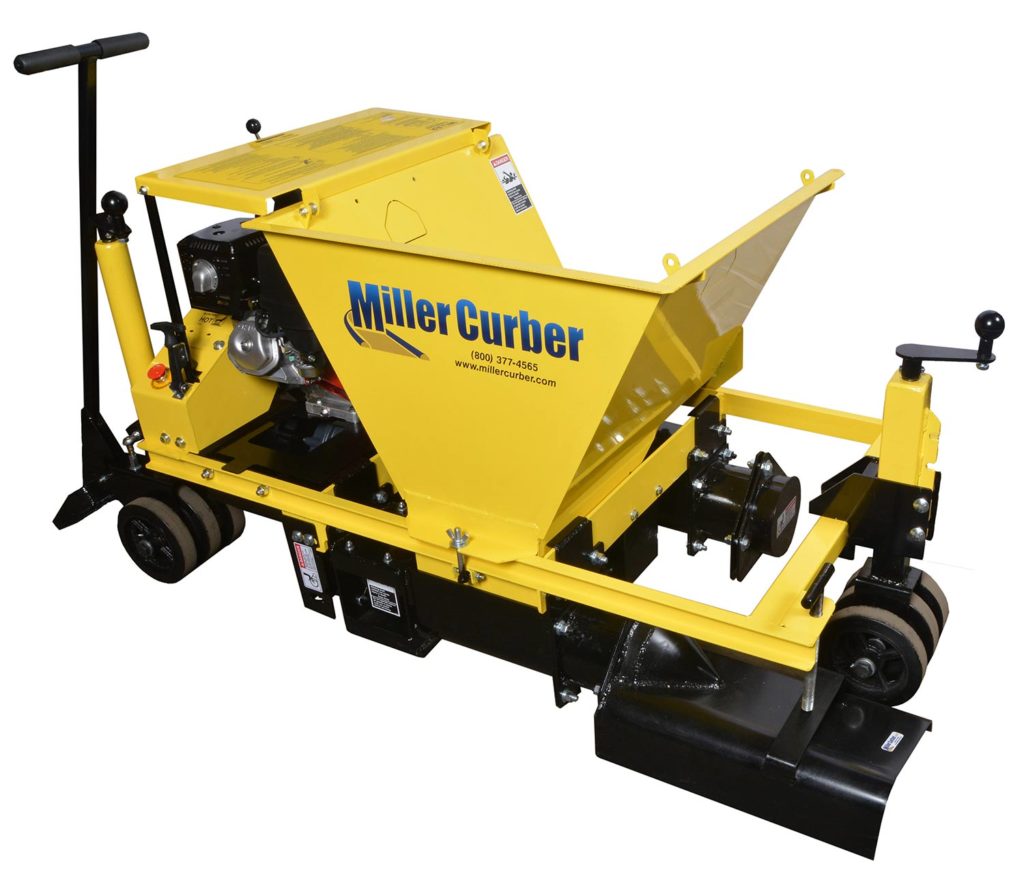 ---
MC 850
This machine is designed for the customer who has large concrete curbs ( typically taller than 13″) they need to extrude. The MC 850 Curb Machine has a tubular frame, a 20 HP 2 Cylinder Honda Engine, a heavy duty clutch, 2.5″ diameter wheels, heavy duty forks, heavy duty auger housing and a heavy duty motor mount.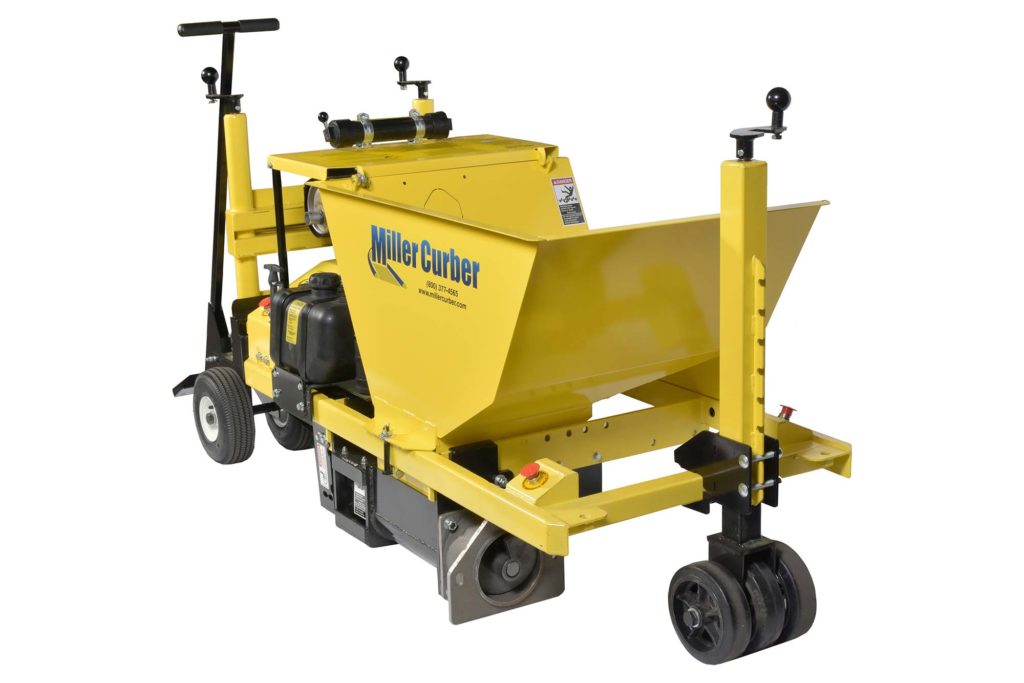 ---
MC 900
The MC 900 Curb Machine is designed for the customer who has miles and miles of roadway curbing projects or has very large (typically 13″ or taller) concrete curbs they want to extrude With 3 sections of augers (all other models only have 2) in it, the 900 is the longest and fastest machine we make, making it ideal for miles and miles of roadway curbing projects.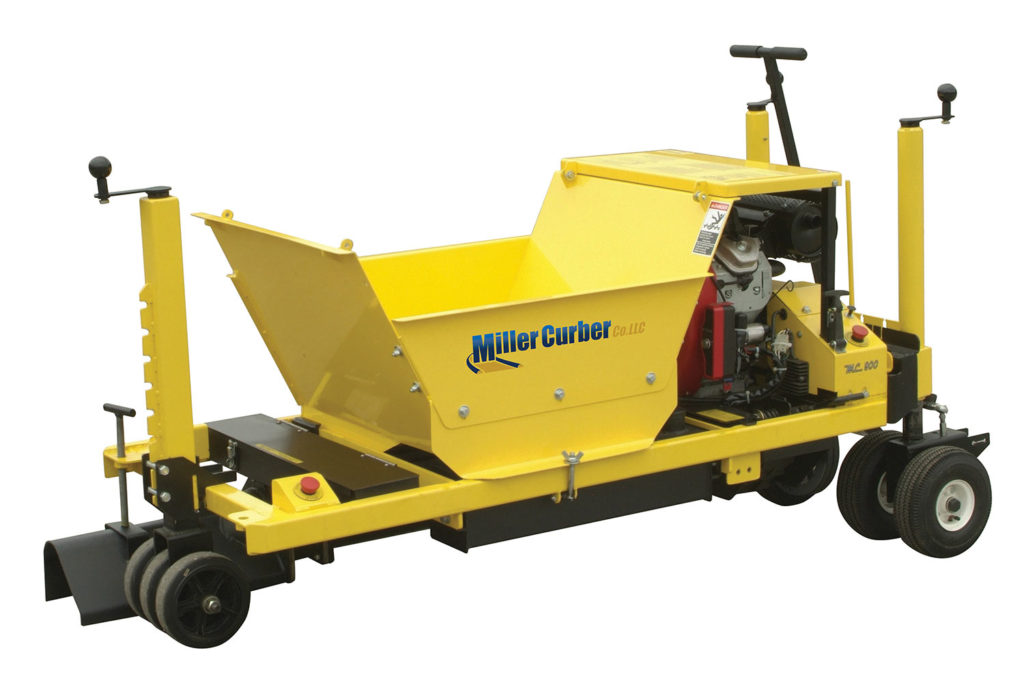 ---
Curb and Gutter Machine
This machine is designed to extrude either a 18″ or 24″ curb and gutter. This machine is built with 2 auger housings next to each other. If you would like to do a 24″ curb and gutter (CFD-1887), the machine is equipped with a 2-8″ auger housings. If you would like to do a 18″ curb and gutter (CFD-1886) the machine is equipped with 1-8" auger housing and 1-6″ auger housing. This machine is the same length as our MC 900, but is 56.25″ in width. This machine requires a graded, compacted base that is at least 56.25″ in width. Either machine comes with vibration and 2 outrigger arms to provide stability. Please note, this machine does not have any capabilities to change the grade. Any imperfection in the grade will result in the curb having the same imperfections.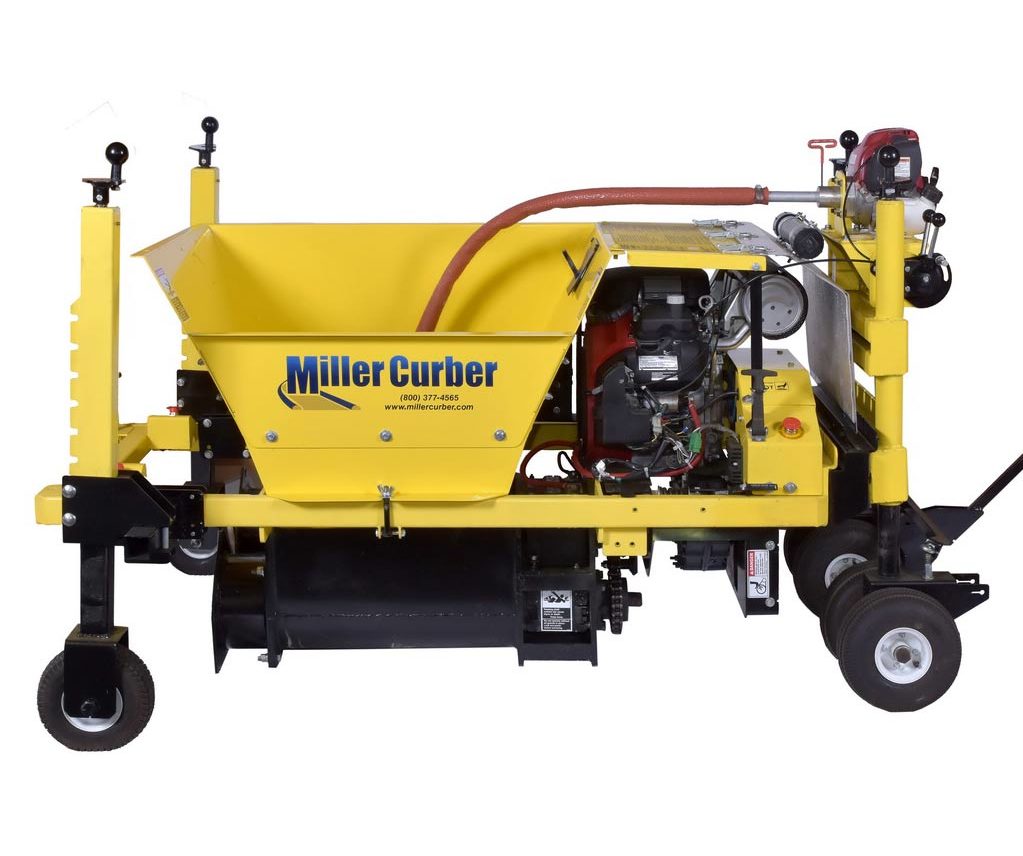 ---
Miller Advantages
Every model will extrude concrete or asphalt
Four interchangeable extrusion assemblies with auger diameters from 5″ to 10″
Extrude from right or left side of the machine
Place curb within 1″ of an obstacle
Extrude steel rod through the curb center (optional hollow auger assembly)
Extrude over pins (optional form)
Two-piece 5″, 6″ and 8″ cast auger allowing four separate wear surfaces for extended life
Easy access and removal of all extrusion components for maintenance and quick clean-up
Nearly 2,000 curb choices with custom shapes available at no additional cost.